What began as a way for a few like-minded looths to keep in touch during a global pandemic evolved (and is still growing) into something much more.
The Looth Group is a Learning Resource
It's a means for looths of all levels — from beginners to the top professionals in the industry — to pick up and to share new tips, to grow their knowledge, and to help each other. It's a way for looths to become better at their hobby or profession.
At least once a week, we chat with some of the luminaries of lutherie. Tips and techniques on all things looth — repair, building, restoration, finishing and more. We even cover the business end with info on how to actually make a living doing this stuff.
Watch them live and ask questions or dip into the archive to re-watch any time.

Sharing tips and knowledge is what the Looth Group is all about. Everyone's hugely generous with their time and expertise. Our content library of looth tips and trade 'secrets' is constantly growing.
And it's not just accepted wisdom. Many of our members are hauling this industry into the twenty-first century with new methods, tools, and ideas.
Tried-and-trusted techniques alongside cutting-edge luthiery. 
Got a question? Ask it in the forums? 
Yeah, we know what you're thinking… Online forums generally suck. Not here. Here we have good people discussing loothing in a supportive way and without condoning nonsense information. We were all skeptical that it could be done but here it is. 
Genuinely helpful advice without all the pissing contests of some guitar forums.
The Looth Group is a Community
Life's not all about building professional skills. Sometimes it's nice to just hang out and talk with friends. Many of us looths busy ourselves away in workshops all day and the Looth Group helps us remember there are other humans doing the same thing.
The Loothalong is a 24/7 global Zoom meeting of looths, working in their shops and shootin' the breeze.
Whether you want to plug straight into the Looth Hive-Mind to ask, "Has anyone seen anything like this before?" or you just want to know that there's a world outside your workshop window, we got your back.
Friendships, collective experience, and bad puns! Come join the Loothalong. It's the looth's water cooler.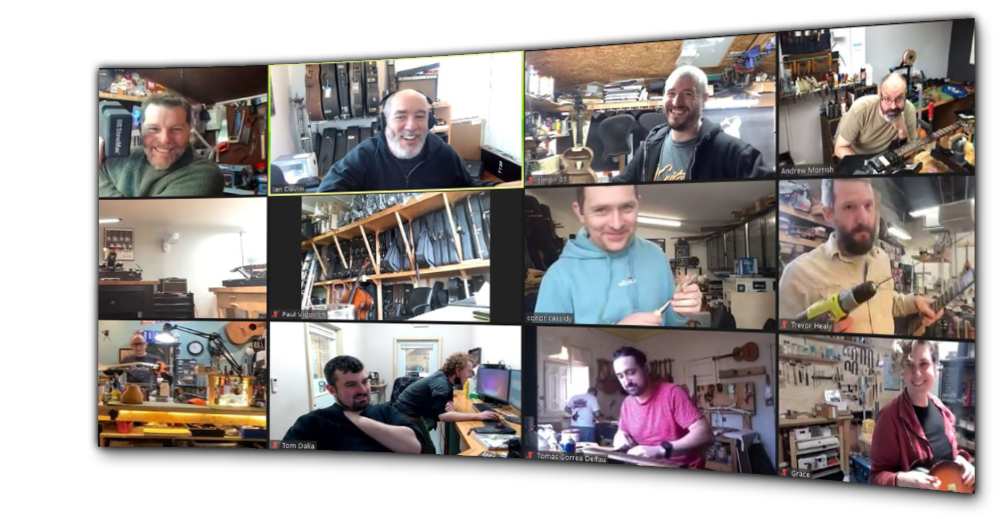 Online Messaging and Chat
Having a bad hair day and don't feel like being on video? No problem. We've got a number of chat rooms where you can share your thoughts without sharing your unruly cowlick. 
And, when needed, our private messaging lets you drop a line to another connected looth or group. 
We've got a chat for general breeze-shooting, cool music, groan-inducing memes, and one for our Spanish-speaking looths.
The Looth Group is Much More
One-to-one consultations with expert looths

Access to some of the best minds in the business

Growing repository of 3D printable tools, jigs, and parts

Sharing and signal-boosting on Looth Group Instagram
Become a part of the Looth Group
Sign up on Patreon to Join us on our loothin' journey